Widespread moderate rain will reduce to a few scattered showers, drizzle and fog this evening. Some of the fog patches may become dense with an east to east-northeast wind of 5-10 mph shifting to the northeast tomorrow.
Normally, with an east-northeast to northeast wind, it is cold here (cold air rolling down the western slopes of the Appalachians from New England), but this depression draws warm, maritime air into the region from the Gulf Stream and the Atlantic, due to its size and long moisture extraction.
This will result in remarkably mild temperatures tonight and tomorrow night in the high 50s. Tonight temperatures will actually rise into the mid-upper 50s.
Tomorrow's highs will be 57-63. Normal is 55-58
Periodic rains with even the potential for an isolated rumble of thunder are likely tomorrow. The best rainfall coverage seems to be early and then late afternoon with a few breaks for the sun in between. An isolated rumble of thunder is possible.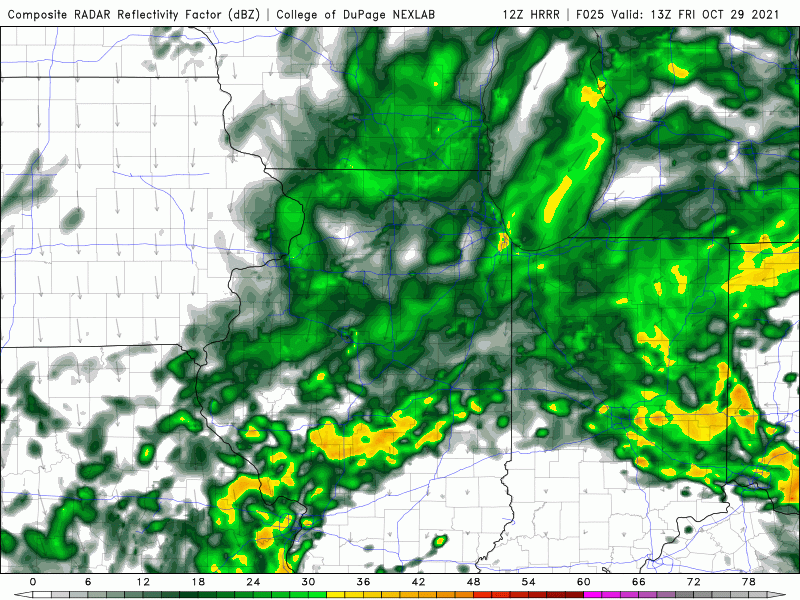 The rain will become scattered tomorrow evening through Saturday morning with some fog.
The rain and drizzle will end by noon Saturday followed by clearing and highs 56-61.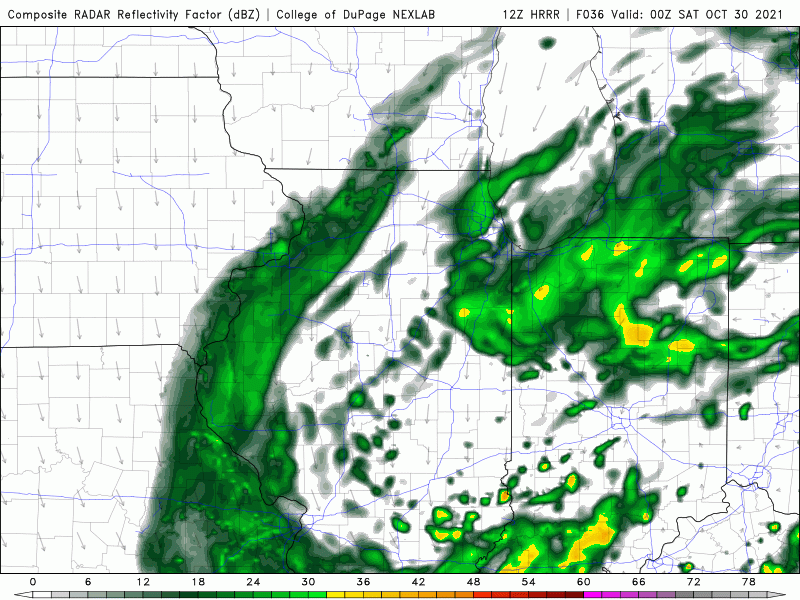 Thursday through Saturday morning rainfall totals will be 0.75 to 1.40″.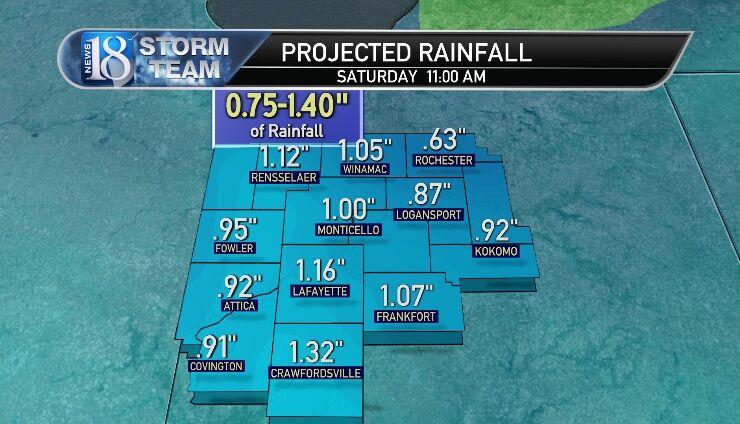 After 42-46 Saturday night, skies are expected to be partly cloudy Sunday with west-southwest winds turning west, then northwest in the evening as a weak, dry cold front moves in. This is the first "bombshell" response expected to occur over Southwest Alaska, thanks to Typhoon Malou and a powerful storm system rolling out of Siberia.
This major storm will dislodge a substantial chunk of cold to the south.
Following Tuesday's showers, the cold upper trough will slide into Wednesday with highs of only 42 to 47 with isolated to spotty rain/snow/graupal showers.
Thursday night lows could fall to 24-27 on the viewing area.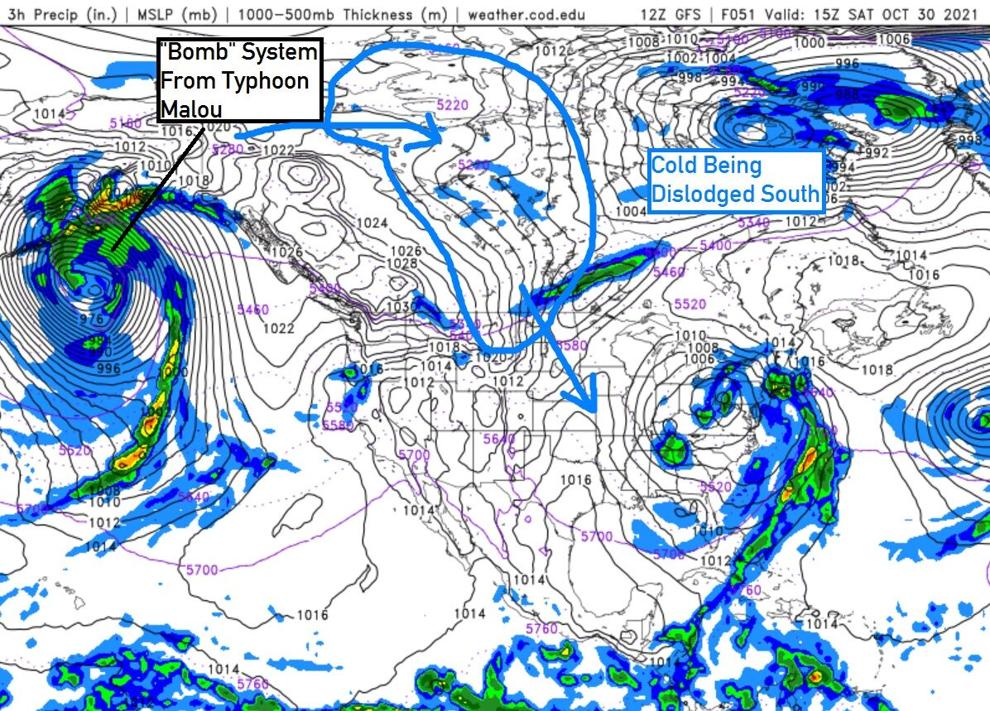 The cold is moving south, but the storms will bring record heat to the Arctic and exceptionally warm weather across Alaska and western Canada.
It could be much colder here, but the unusually warm Gulf and far eastern Atlantic waters with a warm upper ridge and a Bermuda High will tend to force the worst of the cold from Nebraska to Oklahoma. Snow could fall over parts of Nebraska to Kansas and from western Oklahoma to eastern Colorado.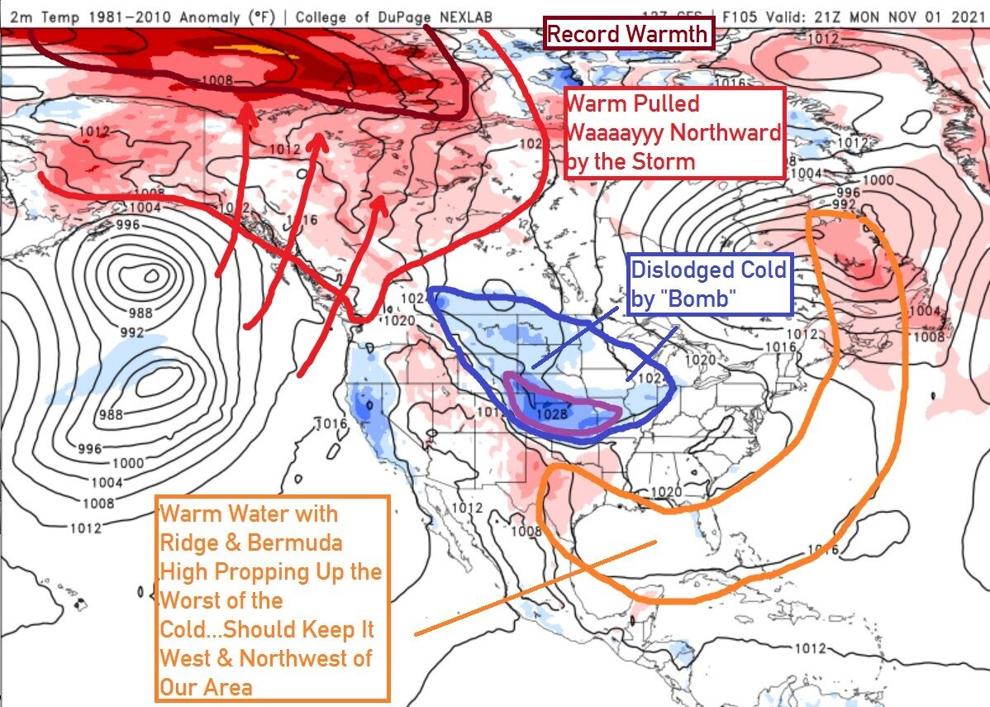 This cold spell will last for several days. It looks like the longest spell of below normal temperatures since the second week of May.
We are looking for sudden significant warming with several storm systems that could pose serious risks here or near it from mid-November through late November.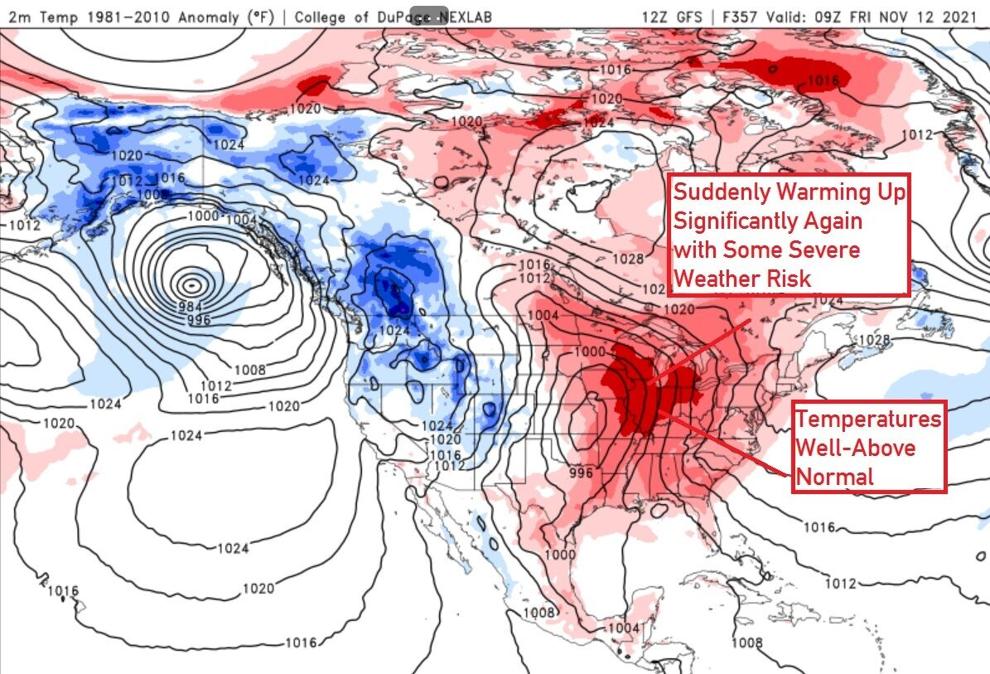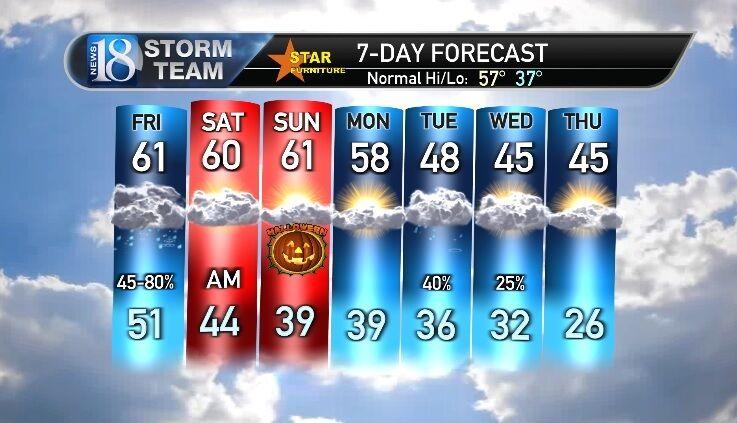 Morning high/low…Date, daytime conditions
45/26…Nov. 5, Friday Becoming mostly cloudy with isolated rain showers/snow showers, wind NW 10 to 20 mph
46/28…Nov. 6, Saturday becoming mostly sunny, wind NW 10 mph.
55/25…Nov. 7, Sunday Mostly sunny, Wind SW 5 mph increasing to SW 15-25 mph.
58/44…Nov. 8, Monday Increasing clouds, SSW 15-25 mph.
62/51…Nov. 9, Tuesday Mostly cloudy to cloudy, a few showers, S 20-30 mph.
65/55…Nov. 10, Wednesday Mostly cloudy to cloudy, scattered showers, S 20-35 mph.
66/55…Nov. 11, Thursday Mostly cloudy to cloudy, scattered showers and thunderstorms, S 20-35 mph.
72/60…Nov. 12, Friday Mostly cloudy to cloudy, with periods of showers and thunderstorms (MARGINAL to SLIGHT RISK for severe?), SW 20-35 mph.
67F/52…Nov. 13, Saturday Cloudy with showers, NW to N to NNE Wind 15-30 mph.
47/44…Nov. 14, Sunday cloudy with showers, wind NW 20-30 mph.
50/28… Nov 15, Monday Partly cloudy, SE 10-20 mph.
60/43…Nov. 16, Tuesday Increasing clouds, S 15-25 mph.
70/59…nov. 17, Wednesday Showers and thunderstorms possible (MARGINAL TO SLIGHT HAZARD?), S 20-35 mph.
47F/33…Nov. 16, Tuesday AM Showers, Mostly cloudy, NW 20-40 mph.
40/29…Nov. 17, Wednesday Partly cloudy, W 10-20 mph.
50/25… Nov 18, Thursday Sunny, SW Wind 5-10 mph.
59/34…Nov. 19, cloudy Friday, possible showers in the evening, wind SW 15-30 mph.
45/40…Nov. 20, Saturday Mostly cloudy, NW 15-30 mph.
46/32…Nov. 21, Sunday Clearing, NNW 10-15 mph.
55/30…Nov. 22, cloudy Monday, late showers, SE 20-30 mph.
55/45…Nov. 23, Tuesday Cloudy, Showers, SW to W Wind 20-30 mph.
36/32… Nov 24, Wednesday Cloudy, scattered rain/snow to flurries and flurries, NW 20-30 mph.
42/28…Nov. 25, Thursday Mostly cloudy, wind west to southwest 20-30 mph.
60/42…Nov. 26, Friday Partly to mostly cloudy, a few showers, wind SW to SSW 25-40 mph.
65/54…Nov. 27, Saturday rain and possible thunderstorms with potential serious risk (?), wind SSW 25-45 mph.
52F/28…Nov. 28, Sunday cloudy, a few showers to a few flurries, wind west to northwest 25-50 mph.
We may not go below 20 in November…it IS POSSIBLE.
HOWEVER, once winter roars in early December it really does roar, it still shows up with temperatures below to well below normal and a chance of snow. There are signs that we won't fully break out of this pattern before Christmas, then we will have a 3 week long mild wet spell with a lack of snow.
The first half to 2/3 of January looks warmer and wetter than normal with below normal snowfall.
Consistent cold and below normal temperatures are still predicted for late January and the first half to February 2/3 before we warm up. During this colder period, precipitation appears to be above normal with above normal snowfall.
At this point, spring still looks early with above normal precipitation in March and below normal snowfall.
Trends are for a cooler and wetter summer than normal with the maximum temperature for Greater Lafayette at 93, not 100 like last summer. Maximum summer temperatures appear to be 90-94, rather than 95-100 like last summer.
The trends are for El Nino from fall to next winter. Fall cooler and wetter than normal possible, then winter drier and warmer than normal overall. It depends on the strength and type of El Nino and other players on the field.