Highs reached 87-91 today with heat indices reaching 90-97.
This, after lows this morning of just 63-70
Other than a small isolated shower/shower coming here tonight-tomorrow, we are warm and humid tonight with lows of 67-71, followed by highs tomorrow of 89-92.
Grand Lafayette tomorrow's record is 90 set in 2011.
I took advantage of the HRRR pattern closely for tomorrow's peaks.
Dew points 67-71 will result in heat indices of 92-99 with southeast to south winds of 7-12 mph.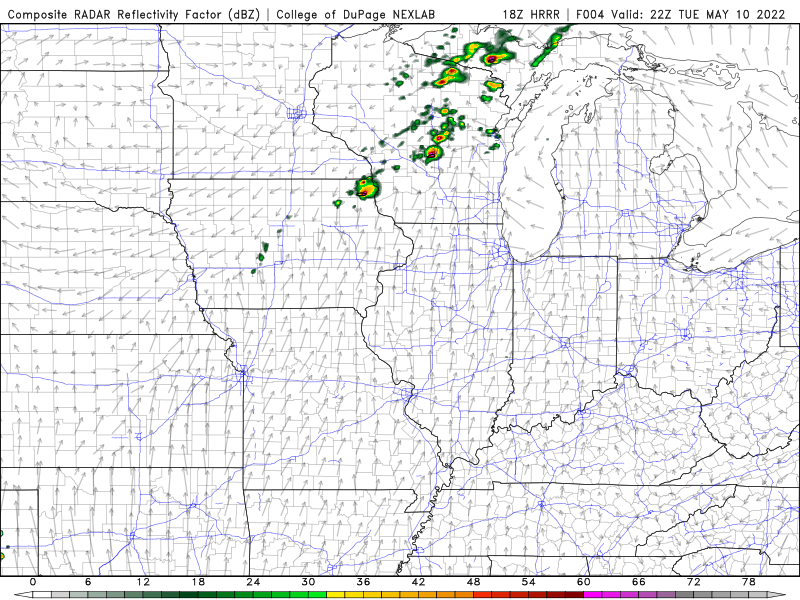 Thursday, 64-67 in the morning with a few clouds, we should become sunny in the afternoon.
Very dry air seeps around the ridge in a tongue in the area. Dew points will likely drop to 43-50 in the afternoon. It will therefore be much less humid on Thursday, but still very hot to hot with highs of 85-90.
I considered making Thursday warmer due to the warming nature of the dry air and strongly descending air, but the pattern analysis does not reflect my thought that it would be warmer due to a southeast to east-southeast component of the wind.
So I went with 85-90. The Grand Lafayette record is 91 set in 2011.
I changed the stockings for Thursday night. With dry air and clear skies with light to calm winds, temperatures are expected to drop to 57-63.
We heat on Friday at 87-91 with sunshine. Winds will blow from the southeast to south-southeast at 7-13 mph. Dewpoints will be higher than Thursday, but not as high as Wednesday at 59-64.
As for Saturday, a large part of the risk of showers/storms is from Saturday evening to Sunday morning. A few isolated showers/thunderstorms are possible late Saturday, then scattered showers and thunderstorms move in.
Parameters suggest MARGINAL RISK for severe or level 1 in 5 (isolated severe) cases at this stage.
Also, at this point, it looks like we're drying Sunday afternoon through Sunday evening into Monday.
We are dropping into the 50s Sunday evening after highs in the 70s to around 80 with westerly winds Sunday afternoon with some clearing.
As for the Lunar Eclipse on Sunday evening around midnight, so far it looks like we can see the clear clouds. IT'S SO FAR….
In terms of precipitation from late Saturday through Sunday morning, varying totals of 0.50 to 1.50″ are expected.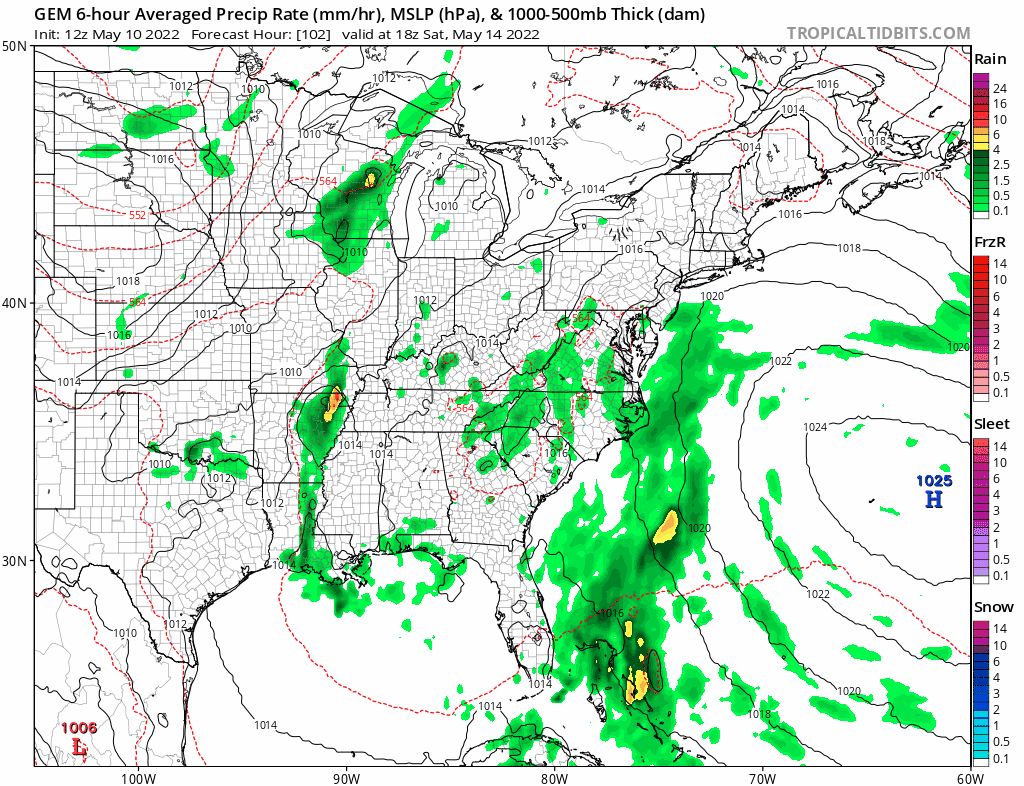 So, I went dry on Monday with sunshine, dry west-southwest winds and highs of 74-80 with low humidity.
This shortwave, secondary cold front is expected to pass Tuesday with some possible scattered showers and thunderstorms.
Highs of 69-74 look reasonable after morning lows in the 50s.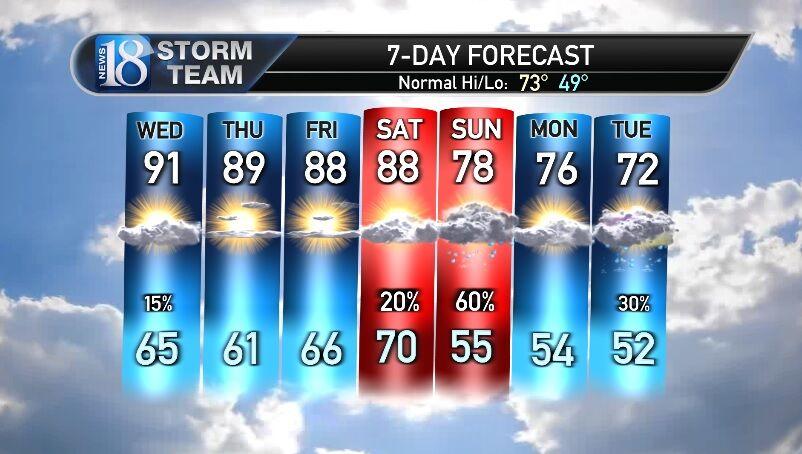 Highs of 60 to near 70 with lows of 40 to near 50 are likely Wednesday and Thursday of next week with winds shifting from northeast to east.
However, the surface cold front will stagnate and begin to migrate north as a surface warm front.
You can kind of see where the front is expected to be on Thursday night next week (May 19) from North Carolina to southern Indiana to central Illinois and then close to Des Moines.
During this time, extreme weather conditions will tend to occur in the warm to hot and unstable southwestern sector from Iowa to Kansas and possibly even Oklahoma and Texas (along the Dry Line the low).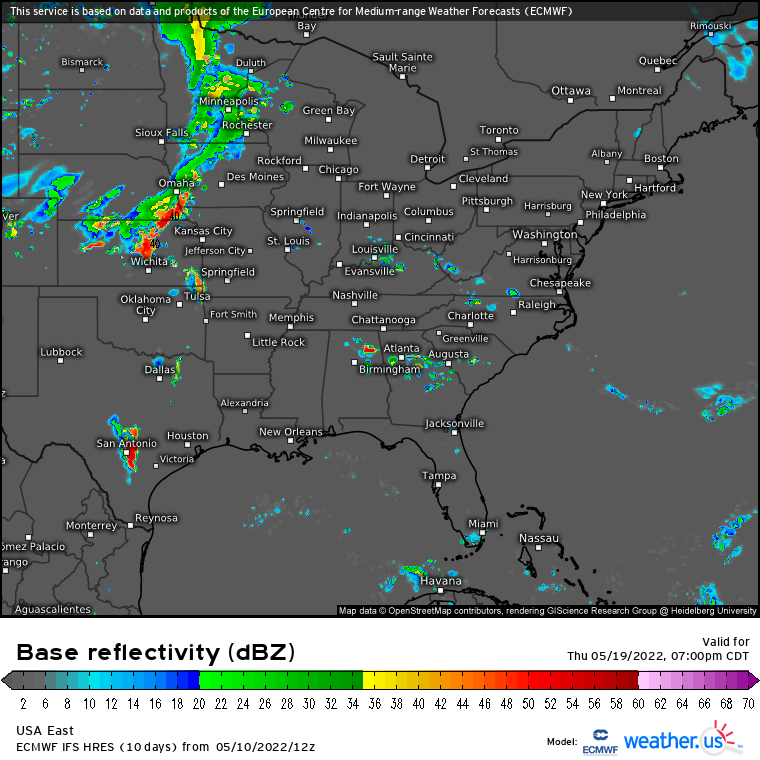 It still looks like we will be back in very hot and humid weather on Friday next week (May 20) with 80 seconds.
Severe weather risk will likely evolve from Oklahoma through Missouri to southern Wisconsin.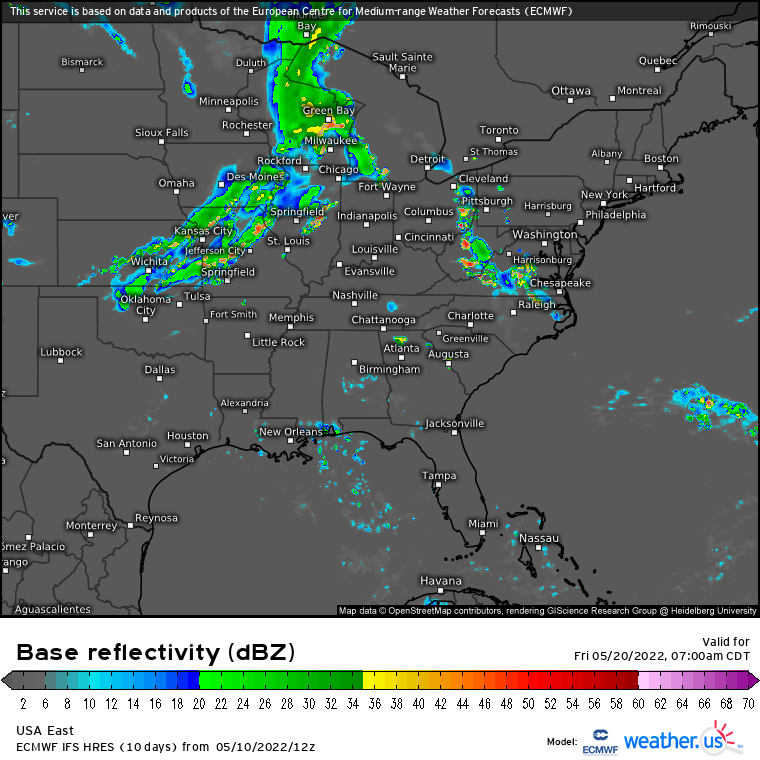 To me, from an analog perspective, this looks like a situation where we get the remnants of showers and storms west of us with severe risk (best risk west of us Friday) Friday night. After that, we then see a break followed by further development of the storm on Saturday May 21st. We will monitor this.
The highs of the 80s look good at the moment.
So, potentially Friday night (May 20-21):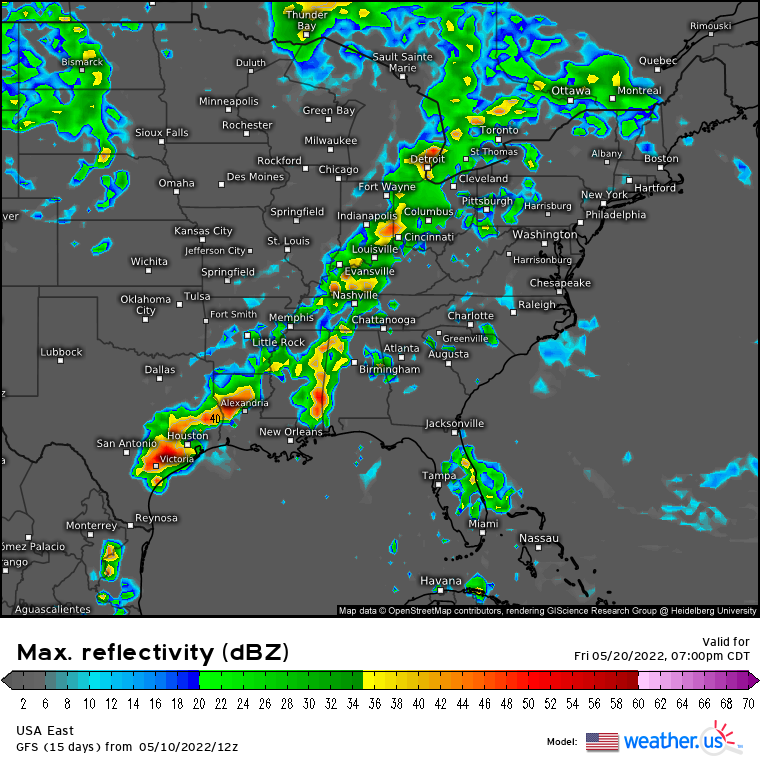 Saturday May 21: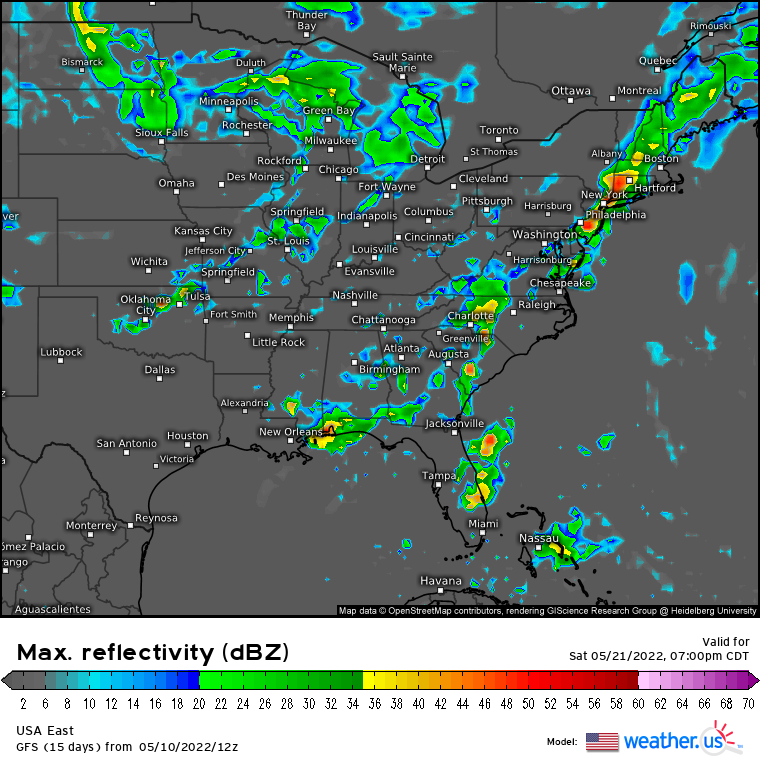 We chill after that.
However, look at the intense heat that stretches from Texas to Oklahoma.
By May 25 or 26 we could see highs of +110 in SW Texas with 100 potentially in Oklahoma.
Here are the projected temperatures for the evening of May 24: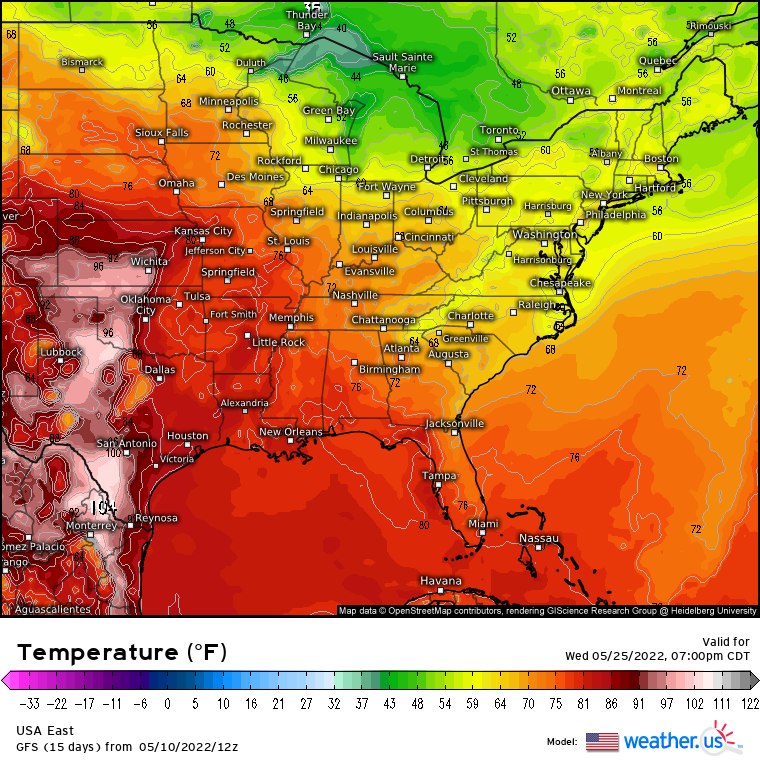 Storms are possible briefly at the end of May, followed by a brief chill, then the HEAT really starts to set in!
I like the ECMWF (European model) representation of early to mid-June temperature anomalies.
The core of the intense heat and upper ridge is Oklahoma and Texas and we see it expanding northeast with heat here.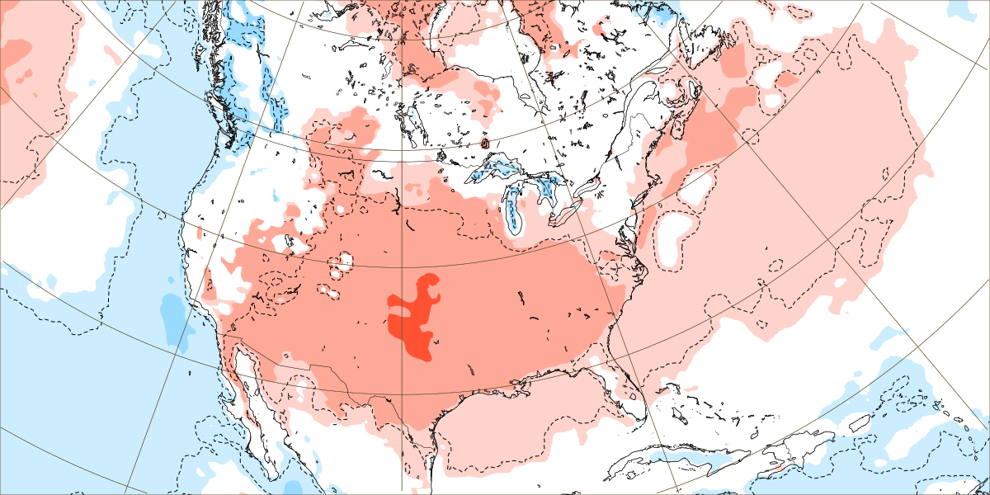 Note the ECMWF representation of precipitation anomalies which coincides well with the analog trend and my thoughts on the summer outlook
You can see the core of below normal rainfall in the Plains extending north and northeast in June.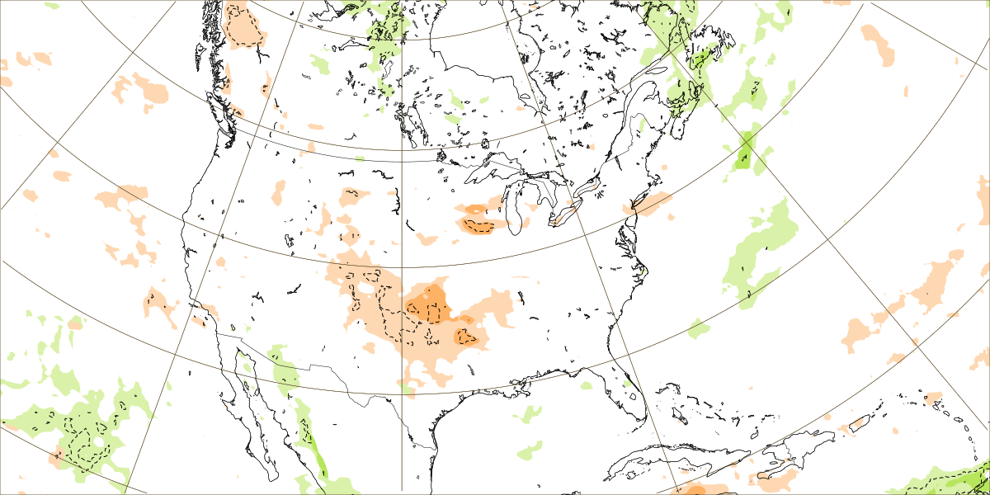 Mid-June we see this specially established signal here.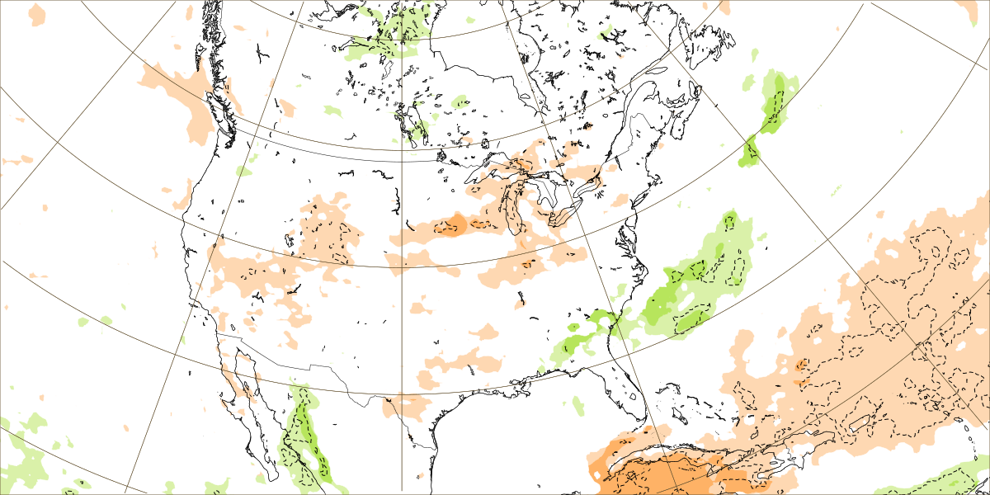 Given the expansion and contraction of the upper plains ridge, we will have periods of very intense heat with dry weather.
However, there will be times when the contraction puts us in line for derechos and global MCS (storm complexes) which can sometimes help alleviate the dryness.
However overall it continues…..continues to look like a hotter and drier summer than normal with a developing 2011 style drought (2011 flash type drought evolved into summer not in the spring as in 2012).
We will continue to watch the active tropics and the periphery of this intense upper ridge for potential precipitation here.