Beyond the weather report – UT News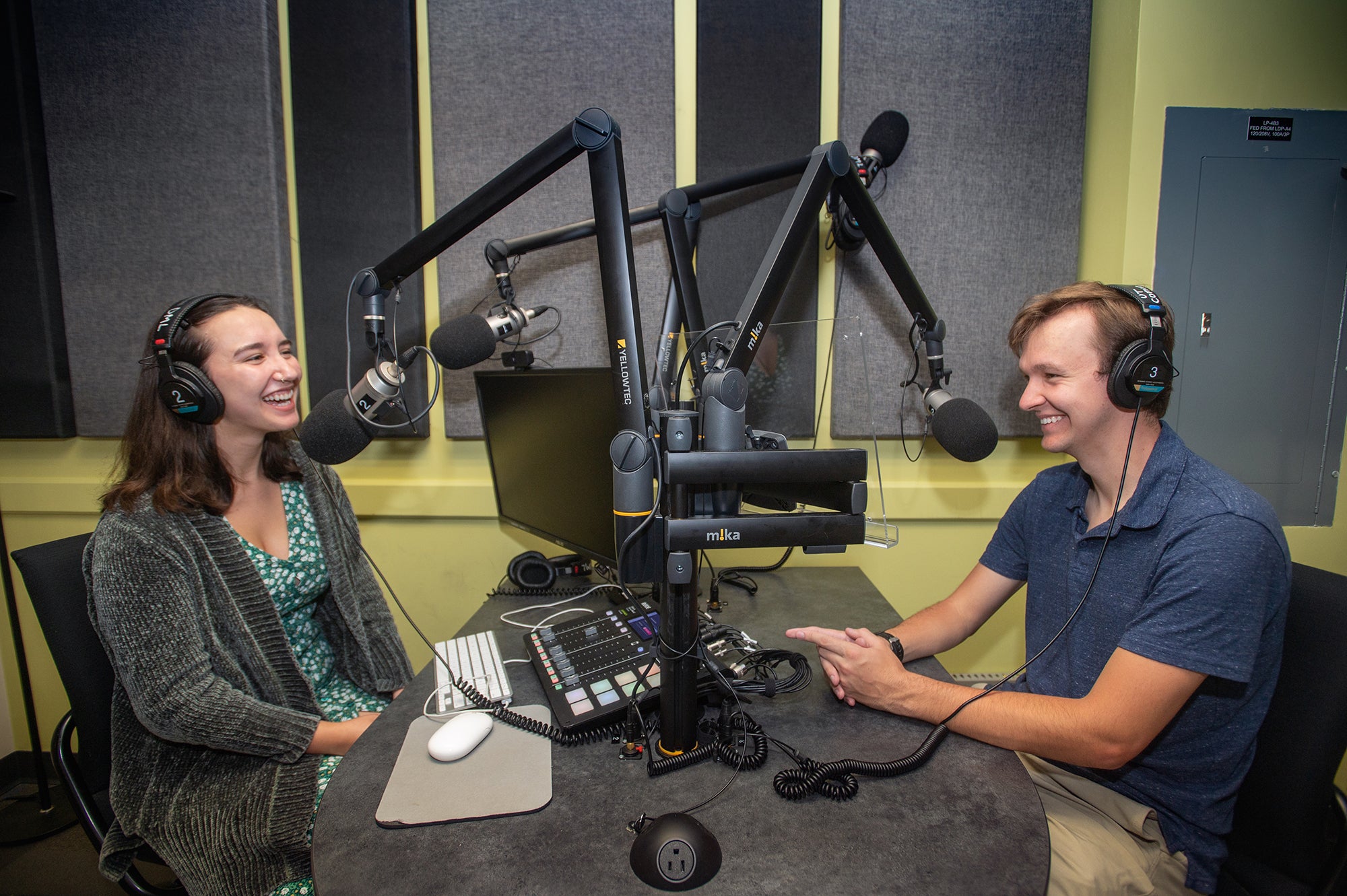 In an audio recording, the sound of falling rain plays softly in the background as a woman tells a painful story about flooding in her southeastern Austin neighborhood. She remembers in detail a storm on Halloween in 2013 when she saw the water rush up to her porch. The streets turned into a river, overturning a car on its lawn. It is a moving tale of losses and uncertainties. But for some Austin residents, it's also a story about climate change.
Aurora Berry, a third-year journalism student at the University of Texas at Austin, recorded the woman, Kathy Pilmore, for a new environmental podcast she is producing with Will Brooks, a recent graduate of Moody College of Communication. They want to explore climate change from the perspective of those who directly suffer the most severe effects.
The couple met Pilmore, president of the Onion Creek Homeowners Association, in her office in May. As she spoke, she traced maps of the area's floodplain with her finger and flipped through photos on her phone showing the neighborhood's continual flooding, which residents say has worsened over the years in due to climate change.
"Audio can be a powerful form of storytelling," Berry said of the interview, which was their first in person since the pandemic. "There is something really special about people telling their stories in their own words and hearing their voices. "
Berry and Brooks are part of The Drag, an award-winning, student-run production house at UT Austin. They are working on a new podcast that will feature expertise and interviews with researchers at UT as the two journalists explore topics related to climate change through stand-alone episodes that examine different facets of the global problem.
So far, the student duo have come up with ideas for six episodes. One examines recovery efforts underway after the 2011 Bastrop County Complex fire – the most destructive in state history – and another visits unlikely supporters of renewable energy across the Texas who decided to make the switch.
"This is such an important story to tell because everyone is affected by climate change in one way or another, and they might not even know it," says Katey Psencik Outka, speaker at journalism and senior producer for The Drag. "We have a lot of students in journalism school who are interested in environmental reporting, and it gives them the opportunity to explore new topics that they haven't had the opportunity to delve into. "
The Drag entered the audio world in 2019 with the real crime podcast The Orange Tree, which ranked in the top 20 across all categories on Apple Podcasts. This was the idea of ​​Robert Quigley, director of innovation at the School of Journalism and Media, who wanted to give students the opportunity to use their reporting, writing and broadcasting skills to create something large that could have a lasting effect.
Her latest series is a change for the production house because for the first time she is collaborating with researchers at UT. These researchers are part of a big UT challenge called Planet Texas 2050, which aims to better prepare the state for the effects of rapid population growth and climate change. The podcast will be funded in part by the initiative's Artist in Residence program, which pairs researchers with artists to explore new ways to engage people in urgent and difficult conversations about climate change.
Although the podcast is funded by Planet Texas 2050, the work will be entirely student-led.
"It's their project," says Psencik Outka. "We want them to feel passionate about the stories they want to tell."
Planet Texas 2050 researchers, including architects, computer scientists, geologists, and humanities academics, will act as advisers on the science behind climate change to ensure reporting accuracy, but they are not choosing the stories or do not control the narrative.
Jennifer Nelson Gray, head of research development for the Grand Challenge and former program director for Planet Texas 2050, however, hopes the podcast will allow them to talk about their research in a way that is relevant and understandable.
"It is important for us in this great research challenge to work with the storytellers and the people on the ground who are part of the changes in our society," she says.
From crime to climate
The idea for the new series began as a simple conversation.
Nelson Gray, who listens passionately to podcasts, said she became a huge fan of The Drag after voraciously consuming episodes of The Orange Tree, which tells the story of the 2005 murder of 21-year-old Jennifer Cave.
"The way the two students who produced it interacted with their interviewees was so sensitive," she recalls. "It was clear that they had received training as a journalist. They carried out meticulous and impartial research into the crime and found information in the archives, which made the story fascinating, but when they spoke with family members of the murder victim, they were very respectful and nuanced in their interactions. It really blew me away, and I think it's fundamental to good storytelling.
Nelson Gray wondered, what if we could tell stories about climate change this way?
"We hope this collaboration will help various audiences to engage more deeply on the subject beyond just seeing it as a disastrous weather report," she said of the research team's decision. 'allocate money to the production house. "The Drag is incredibly successful and millions of people around the world have heard their podcasts, so they have an integrated audience that our work could benefit from. "
Producing a podcast can get pretty expensive, says Psencik Outka. It is therefore useful to have initial funding through the Artist-in-Residence grant.
"It was what we needed to start this project," she says.
Outside the lab and on stage
Brooks and Berry were chosen from among several journalists who applied for the project. Both previously worked in the audio department of the Daily Texan. Brooks, a native of Atlanta, found his calling in journalism after math classes diverted him from business school. Berry, who grew up in Bastrop County, made her storytelling debut recording the daily announcements at her high school, earning her the title "The Girl of Information."
"I didn't think of myself as someone who reported on science," she laughs. "When I got this job, I said to myself, 'Is this a dream? ""
The duo were given a general theme to start with: covering whatever you want in the great state of Texas, as long as it relates to weather, climate, and population growth.
They decided to start locally in the Onion Creek neighborhood of Austin, listening to people's stories about the flooding and how it affected their community. But their work this summer will take them across the state from West Texas to the Gulf of Mexico.
"We want to get out of the labs and into the places where people live, work and raise their children, using engaging sounds and stage-driven stories," says Brooks. "I hope people who hear this podcast, even for a second, could see themselves in these stories and say to themselves, I hadn't thought about how climate change is affecting me."
Brooks and Berry say they don't want the stories to be all pessimistic. They want to share hopeful testimonials from researchers, local governments and community organizations working to prevent disasters, not just rushing from one climate emergency to another.
The goal is to complete the research and reporting by August and seek additional funding to produce the podcast, with the goal of releasing it in the spring of 2022.
They have already conducted several interviews with researchers at Planet Texas 2050 that have helped them understand topics such as the difference between weather and climate – one that can be felt daily and one that occurs over a long period of time. period of time – and how rising average temperatures can lead to more extreme weather events.
"Journalism is also about learning," says Brooks. "You can't talk to people about something that you yourself don't understand. We are fortunate to have researchers from Planet Texas 2050 to help us. Very rarely are you in a situation where you have so many experts who are so willing to offer their knowledge.
Berry and Brooks both recognize that beliefs about climate change vary widely in Texas – from advocates of green energy initiatives to people who doubt the causes or severity of climate change or fear the focus is put on this one for political reasons. It's important to include all of these voices in the podcast, they say, because while not everyone might agree with the science, everyone will be affected. And everyone – from climate activists to people who may be less engaged – are part of the democratic fabric of our country and will be making the decisions on how we respond to this ongoing crisis.
"We want to make sure we tell the story with empathy and in a way that humanizes people who might otherwise have big differences," Berry said. "We all live on the same planet. We are all in there."
And lead producer Psencik Outka hopes this kind of campus collaboration will also set the stage for future storytelling opportunities. "We are forging a new path. "
To know more Le Drag and listen to podcasts, visit its website. And for more information on Planet Texas 2050, check out his site.